Welcome to Ball Park Baseball™!
Ball Park Baseball™ is a game of skill between players who act as managers (and general managers) of the teams they own. Test your knowledge of major league baseball, its players, and parks as you match wits with your competition.
Created in 1957 by Charles Sidman, a Fulbright Scholar, and later a university professor, Ball Park Baseball™ is generally acknowledged as the most statistically accurate baseball boardgame in existence. It also comes the closest to recreating baseball as it is actually played on the field.
Ball Park Baseball™allows baseball fans to put into practice their knowledge of the game and its players. Ball Park Baseball™ is easy to play, however your knowledge of the players' abilities and individual characteristics of the parks, combined with good strategy, decision-making, and timing, will determine whether you can consistently beat your competition.
Ball Park Baseball™ provides the most complete set of team and ballparks available on the market today:
Every American and National League team and the parks they played throughout the history of baseball!

Over 2,200 teams and 130 ball parks
Teams dating back to the beginning of professional baseball - 1894 to present day
The game pieces, all sold individually, include:
Players' cards (on cardstock color-coded by team)
Batters' cards (on cardstock color-coded by team)
Pitchers' cards (on cardstock color-coded by team)
Park Charts (on color-coded cardstock)
Play Book
Strategy cards
Score sheets
Roster sheets
Random number generators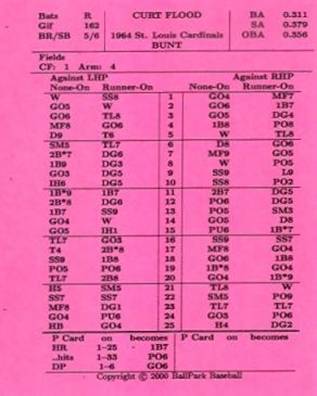 Play World Series match-ups, pit teams from different eras against each other, play full or mini-seasons with their historical rosters, organize league competition - the possibilities are endless!
What our customers say about Ball Park Baseball
We also encourage you to visit the online communities established by enthusiasts of this game, where you will find feedback from other players, tips, and discussion about the game:
http://forums.delphiforums.com/ballparkbb
http://ball-park-baseball-fan-site.com
I hope you enjoy Ball Park Baseball™ as much as those before you have and continue to do.
Batter up!
Charles Sidman